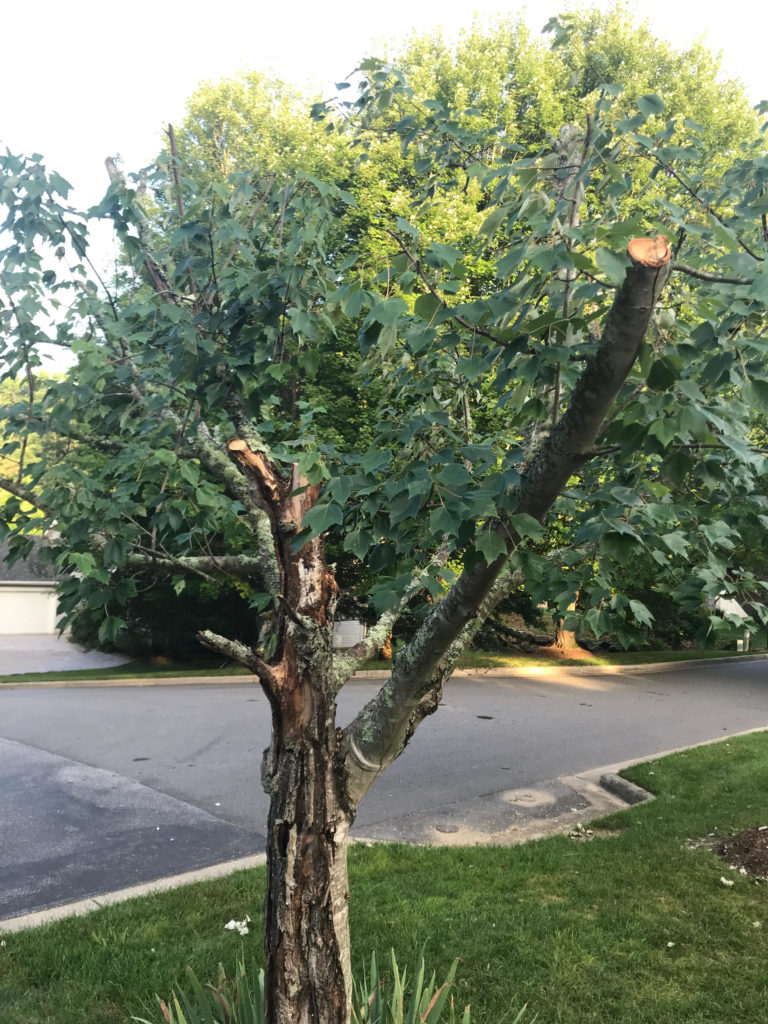 Last week, we had the trees in our yard trimmed for the first time in eighteen years. They had grown tall and full; their branches tangled into each other. Sprawling limbs brushed against our roof and our neighbor's. Using their chainsaws like sculptors' chisels, the tree-trimmers, a father and son from Mars Hill, shaped them up.
One of the trees in the front yard required drastic pruning. The trunk is badly scarred, stained dark by encroaching death. Many of its branches were lifeless, leafless, and brittle. Was it struck by lightning? Was it, is it, diseased?
To give it a chance at a longer life, the trimmers performed radical surgery. Now half of its former height and span, it stands tentatively and apologetically next to the street and near our driveway. The struggling tree can't hide from view; it's exposed and vulnerable. It looks like a patient who has had his hip replaced and is on his feet for the first time, leaning on a walker for support. The wind through its chastened canopy sounds wistful, mournful, and grateful.
That tree and I understand each other.
I'm in a season of pruning. Reluctantly, slowly, I've come to understand that thriving requires cutting back. I've known for a long time that height and breadth, position and influence, are less important than depth: being rooted and grounded in love, drawing nourishment from the soil of soul. Thankfully, knowledge is at last becoming experience.
I'm praying for grace to surrender my worn ambitions and familiar anxieties about scale and scope.
I'm scrambling for courage to stand vulnerably in public view, internally scarred, sometimes scared, occasionally unsteady, less certain, but more hopeful.
I'm seeking wisdom to choose work that is joyful and healing for me and for others. I want to bless, affirm, and encourage people to realize their identity as children of God in whom God takes great delight.
Writing, speaking, and engaging in conversation with individuals and small groups are, I think, the means of this vocation; the ends are fullness of life and awareness of love. Saying "yes" to this vocation means saying "no" to an off-key and out-of-harmony chorus of clamoring expectations to which I've listened for too long.
This morning, at sunrise, I walked barefoot in the damp grass to stand next to the recovering tree. I thought again, as I have often lately, of Jesus' words in John 15:
I am the true vine, and my Father is the vinegrower. He removes every branch in me that bears no fruit. Every branch that bears fruit he prunes to make it bear more fruit. You have already been cleansed by the word that I have spoken to you. Abide in me as I abide in you. Just as the branch cannot bear fruit by itself unless it abides in the vine, neither can you unless you abide in me. I am the vine, you are the branches. Those who abide in me and I in them bear much fruit, because apart from me you can do nothing.
I told the tree and reminded myself that, while being pruned is painful, inflicting pain is not the purpose. The hurt is in order to heal.
And, with birdsong lilting around me and the tree, I heard the refrain from a late 1960s/early 1970s Jesus-Movement song that lodged itself in my heart when I was a young teenager:
If I have not charity
If love does not flow from me
I am nothing
Jesus reduce me to love

(From "Charity," Kenn Guiliksen)
The pruning, the reducing, is about love.